Home

/

Busch Steri-Safe Bur Block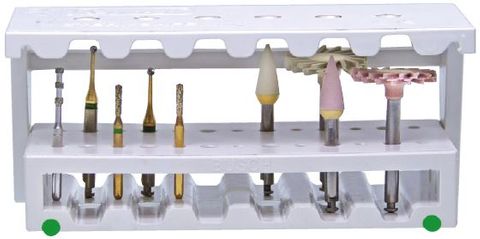 Busch Steri-Safe Bur Block

The innovative wave design of this modern, sterilizable bur block permits safe and combined handling of instruments with RA and FG shank in standard lengths before, while and after treating patients. From preparation to final polishing, all instruments with both types of shank are instantly at hand and clearly arranged together in this bur block.

Holds up to 14 instruments with FG shank, with an overall length from 19 mm to 24 mm. Holds up to 12 instruments with RA shank, with an overall length from 22 mm to 30 mm

The safety bracket is locked in place when closed and securely prevents the combination of instruments with RA and FG shanks from falling out, naturally also during the reprocessing cycle. Wear on the working parts is also reduced since they do not touch and damage each other. Swing the safety bracket backwards in order to remove the required instruments.

The medical resin material of the STERI-SAFEwave allow it to be disinfected and sterilized and its size allows it to be integrated into existing hygiene systmes (sterile packaging / containers). The open design of the STERI-SAFEwave ensures a better perfusion for optimum and effective reprocessing.

The STERI-SAFEwave can also be colour-coded. There are five colours available with the coloured strips having two purposes. In addition to providing a non-slip surface they allow the bur-blocks to be colour coded.


Other Customers Also Purchased